NOTE: This is not yet complete. Please feel free to fix any typos or writing errors, but please have in mind this test isn't complete.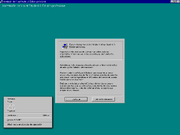 Welcome. In this little test I'll install Microsoft Visual Studio under Ubuntu Linux.
Why do it this way, if we could use Gambas instead or a C compiler? Well, this is for the programmers that use Visual Basic and want a soft change from Visual Basic to Gambas, or just for curious people. Or perhaps for people who still have a lot of Visual Basic code.
For this test I will use Ultimate Ubuntu Linux - You can look for it here. It has the advantage that it has all needed software pre-installed (even Wine), and the only thing I did was configuring Wine.
Ok, let's go.
Installing
Edit
The installation didn't have big problems, although there were some files that couldn't be installed, e.g. DCOM 98 or registering some files on MSDN Setup. I installed the program on
~/.wine/drive_c/Archivos de programa/Microsoft Visual Studio

Note for Wine newbies: "drive_c" corresponds to "C:\", so it was simply installed to the the Wine version of the normal program files folder, where you'd probably install most other Windows programs as well.
Setup (only Visual Studio) has taken 4~5 minutes on this Pentium 4 (2.26 MHz) machine with 512 MB RAM, about 1~3% slower than under Windows. The MSDN Setup has taken about 15~20 minutes, a lot slower, if you take into account that on this machine the MSDN Setup under Windows XP has taken 5~10 minutes, but that's not new. At the moment, Linux binary files run very fast, but Windows programs run very slowly. (Or perhaps the MSDN installer did something out of the ordinary that is slow on Wine? Considering that the other part of the installation process was just as fast within the probable margin of error...)
There it was a .DLL file than MSDN Setup couldn't register on Wine registry, something related Internet Explorer, I think. Will see in the future if that DLL gives problems.
If we ignore the slow speed of Setup, it was very good for the thing I thought would be. The errors were minimal, speaking of Windows programs.
NB. If the problem was about Internet Explorer I would suggest to install wine doors in Ubuntu to install the internet explorer. I have not tested this yet. I am just giving a hint for those who need/love visual basic but are not compatible with their operating system.